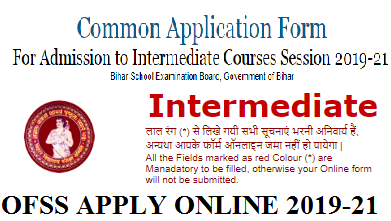 Bihar School Examination Board (BSEB)
OFSS – Online Facilitation System for Students
Intermediate, Session (2019-21)
Last Date for Admission on the basis of 1st Selection list till 14th June 2019
The Students who had just passed out from 10th in this year and have to take Admission in intermediate 1st year that means in 11th, they can now apply for admission in 11th from 27th April 2019. BSEB is now ready to take admission. Bihar School Examination Board has given a extra chance to the take admission in 11th Standard in different Colleges, Higher Secondary Schools.
OFSS provide a online facility to student by which they can apply for their Admission. Apply online for Admission in 11th through OFSS between 27th April to 11th May 2019. Click on the link which is given below for Apply online.
11th May is the Last Date for Apply
Students you can submit the online Application form through OFSS Portal and you must confirm that you have filled up the form for that. 60% Seats are only for reserved Categories applicants.
https://online.ofssbihar.in/studentlogin/
https://online.ofssbihar.in/ONLINE_CAF/JrCAFFORM.aspx
Note : Merit List of the Intermediate Admission will be Published soon as soon online Application Ends. 
https://www.bsebinteredu.in/ : Click Here – Link will be active from 17th of April'19.
If the above link is not working you can whatsapp or call : 8084892500.
#Admission
#BSEB
#Intermediate
#OFSS Bihar
#Recent News